From Idea to Reality
Posted by NĀ KOA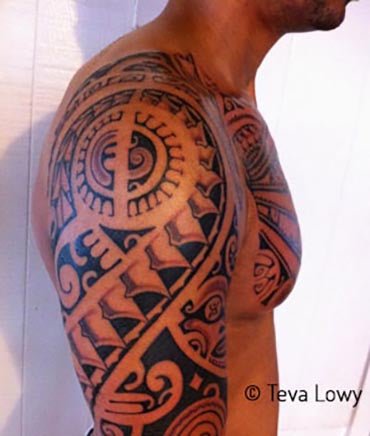 You already know how we became obsessed by the idea to create leather gear with the fierce beauty and real meaning of "tribal tattoos". (Read about it in A Labor of Love) But turning this idea into reality was harder than we ever imagined.
Challenge 1:  The fake and the real
Our first challenge was to find true Polynesian tattoo artists – people who weren't faking the art, like what you sometimes see on mass produced "tribal tattoo" t-shirts and caps.  At NĀ KOA  we want to work only with tattoo artists who are rooted in Polynesian culture, who really know the traditions and motifs used in the Polynesian islands.
Polynesian "tribal" tattoos have become so popular worldwide, that some tattoo artists have taken to faking them.  A good enough artist can fake the look, and even come up with something quite appealing, but he has no idea of the culture and meanings behind what he's created. (Some people even warn of the "Bad Juju" of such fake art.)
Challenge 2:  More fake versus real
The decision to place the tribal tattoo art only on real leather, rather than fake "leather" like PU "Leather" was easy.  Not only does real art deserve real leather, but the fake "leather" that you see is really plastic. (See more information here)
The fake leather takes hundreds of years to decompose and contributes to the mountains of plastics in landfills and the huge trash "gyres" in our oceans.
You don't really want to add to that, do you?  And neither do we.
The hard part was finding a method of placing the tattoo art on genuine leather without losing the feel of the leather.
Challenge 3:  Preserve the art and the leather
We scoured the world to find a method of placing the tattoo art on genuine leather.
Hand painting the art proved unreliable – though there are skilled artists who paint on leather, they were unable to copy the precise tattoo designs by hand without taking liberties with the art.
Printing the Polynesian tattoo art with standard methods on the leather could work – but printing removes the characteristic touch of good genuine leather. We knew our customers deserve better, and the art deserves better, too.
Many trials with leather types, suppliers, and processes, and long trips to India later (India is the 2nd largest producer of cow leather, after China), we had – nothing.
At that point many thought we were crazy. We had a "day job" after all, our small company Maui by Design. But giving up just isn't in our blood.
And step by step, the pieces came together.  Amazing artists agreed to work with us and share their knowledge of the art along the way.  And we found the unique process that allows us to place the art on genuine leather.  The tattoo art is completely durable, but when you touch the wallet, you also feel the touch of the genuine leather.
So here we are, celebrating our first collection of Polynesian tattoo wallets and card holders.  Wallets for women, in fun leather colors, are not far behind.  (If you want to get alerted when new designs have arrived,sign up here to our newsletter just below