A NĀ KOA wallet and the ocean. What could possibly go wrong?
Posted by NĀ KOA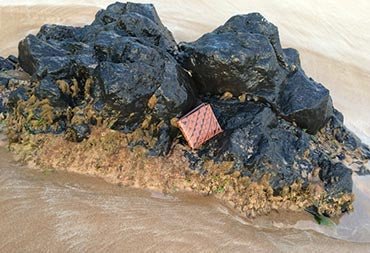 Do you love the beach? We do! And we love photo shoots at the beach.  They show off the natural leather of NĀ KOA wallets in a natural environment, in the sand, with driftwood, on lava rocks. But sometimes things can get out of hand…
It was late afternoon, and the tide was coming in. Of course we didn't notice it. We were focused on getting in more shots before losing the late afternoon light.
Then came the wave.
And then – wallet overboard!
Well, when we fished out the wallet, it actually looked kind of beautiful – we still had some sunset light and the water drops sparkled on the leather.
So we dropped two more wallets into the water and took another shot.
Well, to be honest, this wasn't all that bold of us – we knew that our story would have a good ending. Money dries, coins dry, credit cards dry…. And the soft Napa leather of NĀ KOA wallets definitely dries! (We'll show you how to dry a wallet in a future post. You can also find lots of how tos all over the web.) If anything, the water has deepened the beautiful natural texture of the leather.
The only problem? Any time we pull a credit card out of of our NĀ KOA wallet, a few grains of sand come out with it. But that's life in Hawaii and it's a great complaint to have!