Product Content
French Polynesian tattoo trifold wallet - Art: "Te Atua" by Sulu'ape Pili Mo'o
$44.99
You Save:

$-44.99

(100%)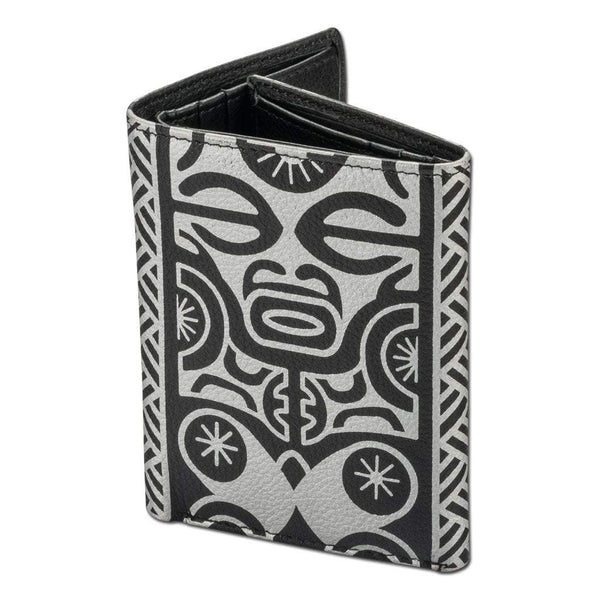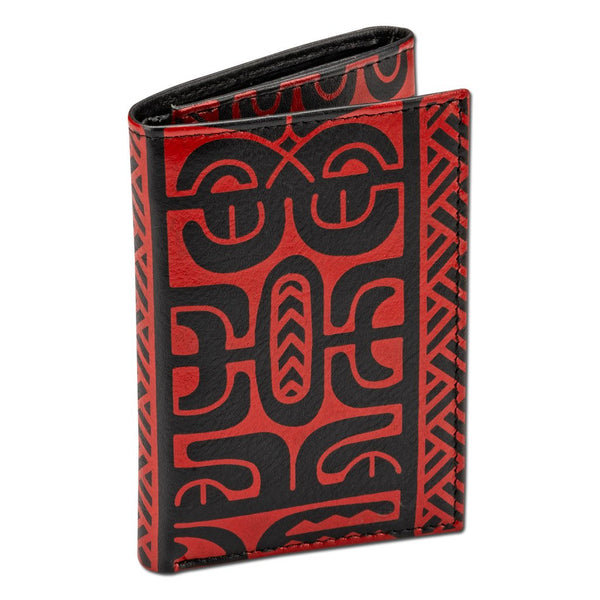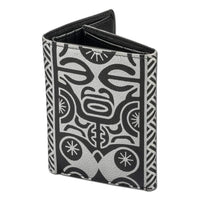 "The workmanship and authenticity of design are excellent. "
French Polynesian tattoo trifold wallet - Art: "Te Atua" by Sulu'ape Pili Mo'o
$44.99
You Save:

$-44.99

(100%)
Product Description
Description
POLYNESIAN TATTOO by tattoo master artist Sulu'ape Pili Mo'o.
The Marquesan style tattoo art refers to the French Polynesian deity Te Atua who passes on light and wisdom.
SOFT GENUINE LEATHER:  The tattoo art is placed on the leather with a unique method that leaves the natural leather exposed and preserves its soft feel and finish.
COMPACT WIDTH yet plenty of compartments - it can hold a lot of your stuff.  The pliable leather will mold itself to comfortably accommodate your daily wallet essentials. 
DURABLE AND DEPENDABLE each wallet has been crafted with love and care from high quality leather. Due to our unique method of applying the tattoo to the leather, the tattoo won't rub off.  
SHIPS FAST FROM HAWAII directly to you anywhere in the US within days.
Order your NĀ KOA men's wallet today and enjoy a unique wallet that makes a personal statement.
Art and Artist
Te Atua by Sulu'ape Pili Mo'o.

Motifs and meanings ** Te Atua by Sulu'ape Pili Mo'o refers to the French Polynesian deity passing on light and wisdom Motifs and meanings*: Look at this design not just with your eyes, but also with your heart. Sulu'ape Pili Mo'o said about his art "I wish you a lot of money for a long time, but use it with wisdom."

*according to the artist, well as popular interpretations
Specs
The NĀ KOA trifold wallet is practical yet stylish and can fit into narrow front or back pockets.
2 full length bill compartments keep your money organized
Convenient ID window so you can quickly flash your identification
2 hidden slip-in pockets so you can stash more cards, receipts, photos and more safely
4 card slots for credit cards —and you can fit more than one card into a slot
Easy-open, secure tri-fold closure
Made from 100% genuine leather — soft and pliable
NĀ KOA signature logo debossed inside
Dimensions: 3 "(L) x 4 1/8 (H), Weight: 2 oz

The NĀ KOA trifold wallets come in a ruggedly attractive gift box and make a great gift for anyone who wants to make a statement about who they are with a beautifully-designed, unique wallet.

Order your NĀ KOA trifold wallet today and show who you are with a wallet that you'll be proud to use.
Artwork is beautiful
I asked her to send me me a trifold, but I went outside my usual choice and took a chance on Red and black. Wow!!! Once it arrived I'm so glad I chose this color combination. It really pops back at you. Beautiful. I leave it open on the counter just to see the whole artwork. The look and feel tells you this is fine leather. Super soft as well. I love to visit the Islands, but now when I'm away I still have my wallet to bring back the Island Life to me. Mahalo 🤙
Extra Special!
I purchased this as a gift for my husband as he actually has two tattoos that Q did for him, so it is fun that he now has a wallet designed by him too! The leather quality is soft and supple, the design is beautiful and my husband was thrilled! Fast and careful shipping, great communication - will definitely keep an eye out for future offerings from this group!!
A beautiful piece of functional art
I received my wallet two days ago and could not be happier with my purchase. The craftsmanship is solid, the leather is very soft to the touch and the artwork is beautifully designed with the various symbolism. Even the packaging that the wallet came in shows off the level of pride and attention Nakoa gives to their products.
This is my third purchase so far and I will definitely be a repeat customer in the future. With this and past purchases I am proud to be able to do some small part in supporting my fellow artists and also helping the peoples affected by the fires in Maui.
Love the new wallet
With part of the profits going to help the Maui fire victims and homeless Keikis, it was a perfect time to get the wallet I have been eyeing for a while. I love the design and color. The leather is super soft with enough compartments for me to hold exactly what I need. I am a minimalist and a regular wallet is too bulky even when I have nothing in it. A travel wallet is sometimes not enough. The Nakoa wallet is perfect - the look and feel of a real leather wallet without the bulk
Well made. Bought as a gift for grandson!