Product Content
Hawaiian tattoo wallet for women - Art: "Ola" by Kuaika Quenga
$74.99
You Save:

$-74.99

(100%)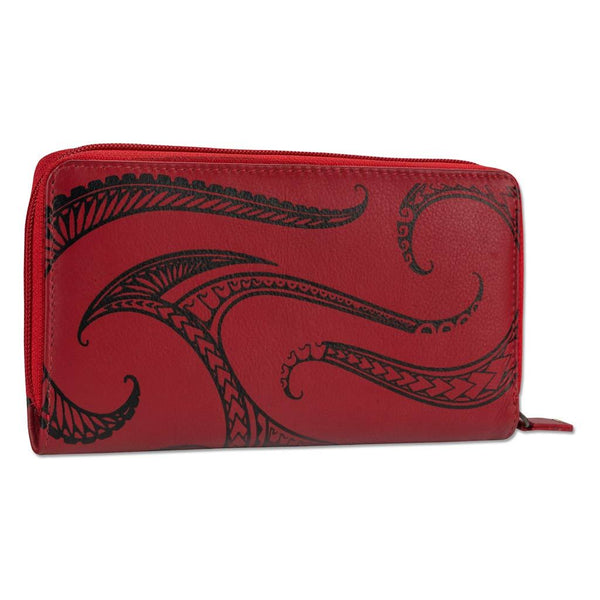 "I chose this one because the meaning is perfect for my wife and daughter and they love having the same wallet. They say it works great and the leather is really nice."
Hawaiian tattoo wallet for women - Art: "Ola" by Kuaika Quenga
$74.99
You Save:

$-74.99

(100%)
Product Description
Description
GENUINE POLYNESIAN TATTOO by Maui tattoo artist Kauika Quenga.
The tattoo art reflects Protection, healing and good fortune. View the opened wallet from the back to see a beautiful, graceful bird.
SOFT GENUINE LEATHER:  The tattoo art is placed on the leather with a unique method that leaves the natural leather exposed and preserves its soft feel and finish.
ALL-AROUND ZIPPER EXPANDS TO ESPECIALLY WIDE opening so you can easily find everything in it.
PLENTY OF SPACE for you if you need to carry a lot of cards, cash and just "stuff".  The pliable leather will mold itself to comfortably accommodate your daily wallet essentials.
STAY ORGANIZED with multiple compartments for easy access and a zippered compartment.
DURABLE AND DEPENDABLE each wallet has been crafted with love and care from high quality leather. Due to our unique method of applying the tattoo to the leather, the tattoo won't rub off.  
SHIPS FAST FROM HAWAII directly to you anywhere in the US within days.
Order your NĀ KOA men's wallet today and enjoy a unique wallet that makes a personal statement.
Art and Artist
Ola by Kuaika Quenga.

Motifs and Meanings*: Ti leaves combine with taro leaves in this feminine and powerful design by Hawaiian tattoo artist Kuaika Quenga. Ti leaves have many healing qualities and are also often used for spiritual protection. Legend has it that Taro is man's older brother Hāloa who watches out for us and nourishes us. Open the wallet to see a beautiful Kea'e bird (positive direction and brings you home safely) spread its wings across the entire wallet back.

*according to the artist as well as additional popular interpretations.
Specs
Convenient zip wallet holds your stuff securely without being bulky
10 slots for credit cards— you can fit more than one card into a slot
4 open compartments that can hold most smart phones, a check book and more
Zippered pocket inside to keep coins and more safe
All-around zipper closure opens to an especially wide 8 inches so you can easily get to all your stuff
Made from 100% genuine leather - soft and pliable
NĀ KOA signature logo debossed on back
Dimensions 8" (L) x 4" (H) x 1" (W)), Weight: 5 oz
NĀ KOA Polynesian tattoo clutch wallets are great for any woman who wants to make a statement about who they are with a beautifully-designed, unique wallet.
Order your NĀ KOA men's wallet today and enjoy a unique wallet that makes a personal statement.
Have not received it
Have not received it yet.
Aloha Yvonne! We are so sorry that you did not receive your order. Tracking number indicates that the package was delivered May 30th to the address you provided in the order. Please send me an email with your address so I can recheck if the address we have is correct.
box
I purchased the men's & womens wallet & the mens wallet came in an awesome box. The womens wallet was almost double the cost that came in basically a zip lock bag. Thought it might been some an error as the men's wallet half the cost came very well packaged as a gift. Contacted them as the women's wallet was a gift and a $75 wallet should come in a nice box . Not a zip lock bag. Unfortunately it only comes in the zip lock bag, Now I have to find & pay for a different box for it to fit in & look classy. Not that paying for a $75 women's wallet should already have that! Not sure on the quality as of yet. They do not offer Kama'aina either for those that are local......
Aloha Steph! I am really sorry that you were disappointed by the lack of a box for the women's wallet. Only our men's wallets and the tri-fold wallets come in boxes. The difference in cost between the men's wallet and the women's wallet is because the women's wallet is much much larger and therefore uses more than double the amount of leather, and has many more compartments, plus a zipper. The cost of the materials and the labor to make all the various compartments is just so much higher. Therefore the price of the woman's wallet is higher, too. If we added a gift box, the price of the woman's wallets would have to be higher, too. Keeping our prices as low as possible is a very important goal for us. That's so that the products are affordable for anyone, especially kamai'aina and Pacific Islanders on the mainland. I hope this explains the situation, though I realize it can't help your disappointment
Hohonu
Love this wallet. Leather is a little stiff at first but softening with use. It's big enough but not too big. I wish it came in blue. Looking forward to cross-body,bag becoming available in the pattern and color I want.
This wallet would make a wonderful gift.
Looooveittt 💯🫶❤️❣️
It's pure great leather and has just the right amount of pockets and the zipper is grade A as well. Shipped quickly too.
Excellent!
I bought this wallet for my wife for Valentines Day & she absolutely loves it! Came as described, beautiful design, & we will order more in the near future. The artists & designers should be congratulated 😁