Product Content
Samoan and Tongan tattoo cuff - SMALL wrist - Art: "Malie" by Tricia Allen
$21.95
You Save:

$-21.95

(100%)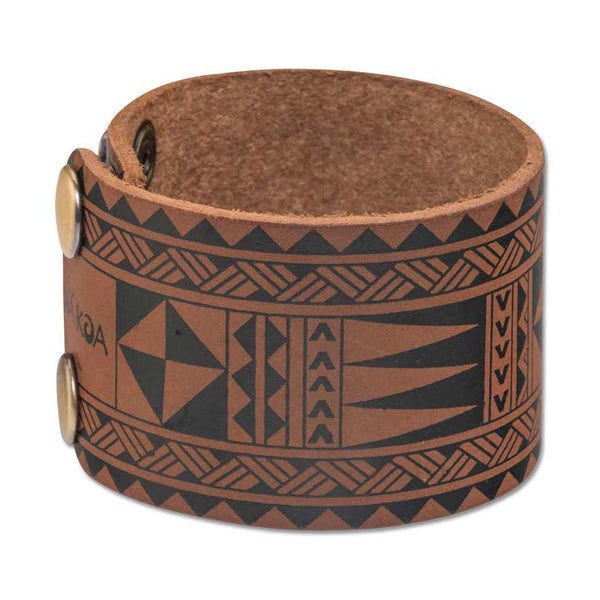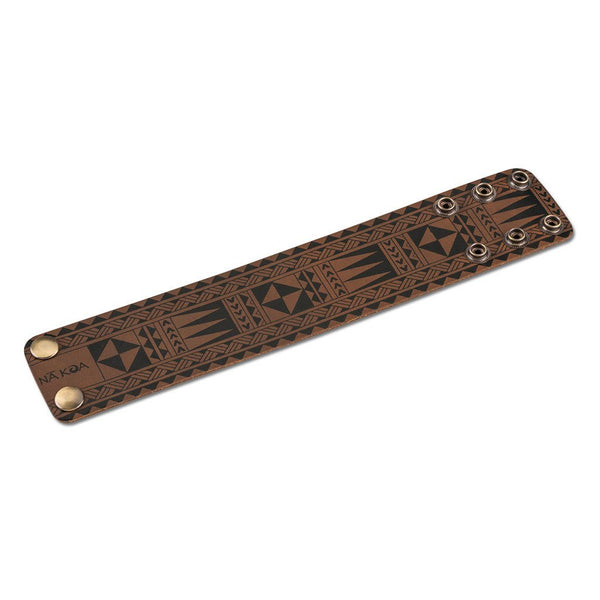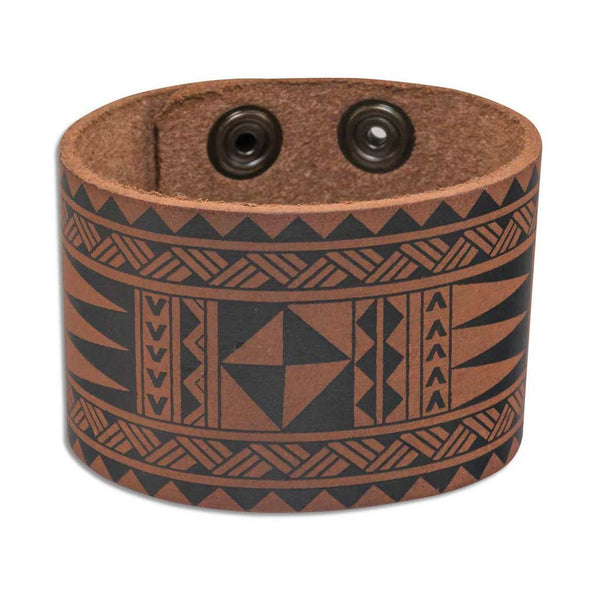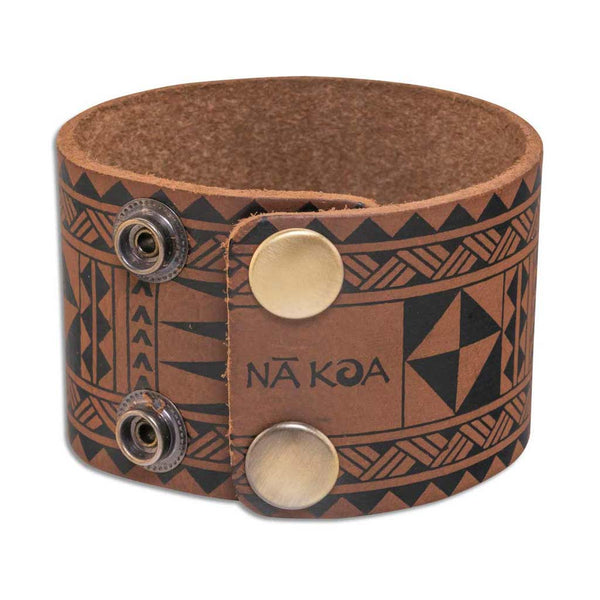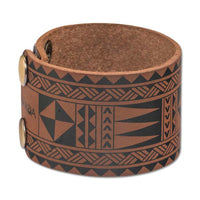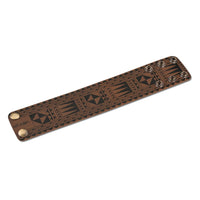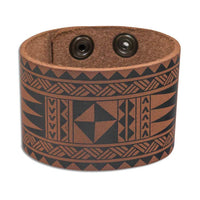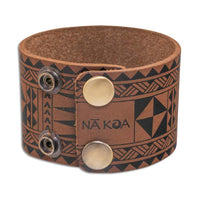 Samoan and Tongan tattoo cuff - SMALL wrist - Art: "Malie" by Tricia Allen
$21.95
You Save:

$-21.95

(100%)
Product Description
Description
GENUINE POLYNESIAN TATTOO by one of the most influential people in Polynesian tattoo art: Tricia Allen, tattoo artist, author, researcher and lecturer.
The tattoo art uses classic Samoan and Tongan motifs that reflect land, ocean and sky.
ADJUSTS TO WRIST SIZE 2 sets of snaps let you adjust the cuff to the size that's most comfortable to you. (For larger wrists, also check the larger size of this cuffs).
THICK PLIABLE LEATHER:  The tattoo art is placed on the leather with a unique method that leaves the natural leather exposed and preserves its distinct feel and finish.
AGES BEAUTIFULLY - the leather breaks in and softens beautifully the more you wear it (many of our customers wear theirs daily)  
DURABLE AND DEPENDABLE each cuff has been crafted with love and care from high quality leather. Due to our unique method of applying the tattoo to the leather, the tattoo won't rub off. 
NO WORRIES ABOUT GETTING WET  - wash your hands, wear it in the rain, or when you swim. (Rinse with water after swimming in the ocean, so that the salt does not corrode the metal snaps)
SHIPS FAST FROM HAWAII directly to you anywhere in the US within days.
Order your NĀ KOA cuff wristband today and enjoy a unique accessory that makes a personal statement.
Art and Artist
Malie by Tricia Allen.

Motifs and Meanings*: Land, ocean and sky. Famous researcher, curator and tattooist Tricia Allen used traditional Samoan and Tongan tattoo and tapa elements for land, ocean, and sky.

*according to the artist as well as additional popular interpretations.
Specs
Thick leather cuff bracelet that looks great on male and female wrists.
Adjustable to best fit your wrist: 3 settings from 7 to 9 inches in wrist size.(For smaller wrists, see the smaller version of this cuff)
2 inches wide to show off your chosen tattoo art
Snap closures close your cuff securely
NA KOA logo incorporated into design
Thoughtful gift
I finally feel I found a gift my nephew in law will enjoy. His tattoos have deep meaning for him, & I picked the cuff I thought suited his beliefs. And it's lovely too! Extra perk I'm supporting an artist doing their art too.
Awesome design
Love the quality and the thickness of this piece. The design is awesome and is a great accessory to wear!
Beautiful Leather Cuff!
Beautiful leather cuff! The craftsmanship and artwork are make this a standout piece! I must comment on the customer service of this amazing company….my order consisted of two leather cuffs….when my shipment arrived the package was torn a bit….when I opened the package only one cuff was inside. I reached out to Na Koa and described who my order arrived. After a little investigation, they found that both cuffs were intact in the order when they shipped it, and it was likely tampered with during shipping. Na Koa replaced the missing cuff and it was shipped within a couple days! So impressed and truly appreciate the efforts of this company!
Mahalo!
Great
It is a wonderful piece and comfortable.
Beautiful!
Been looking for the perfect cuff and Na Koa delivered!