Product Content
Polynesian tattoo clutch wallet - Art: "Ikaika" by Eugene Ta'ase
$79.99
You Save:

$-79.99

(100%)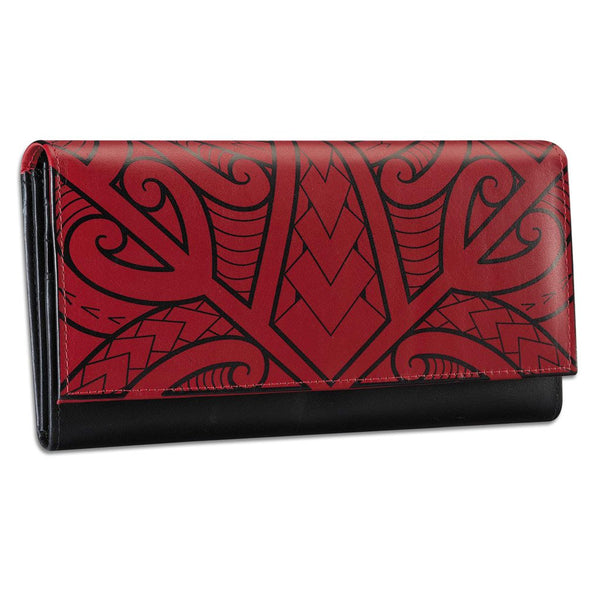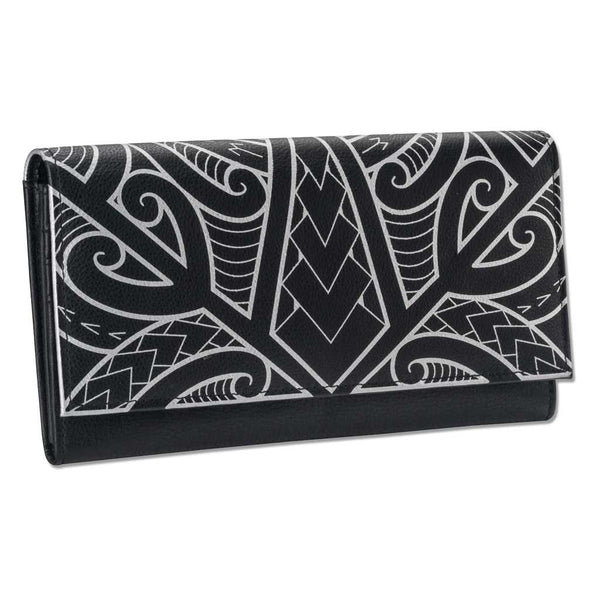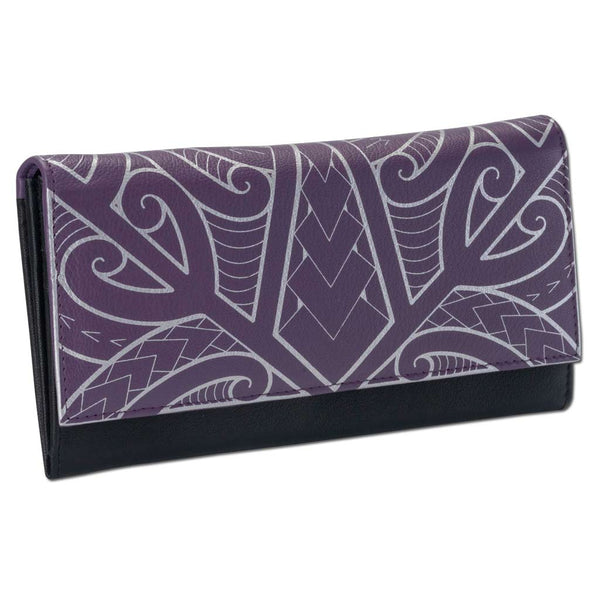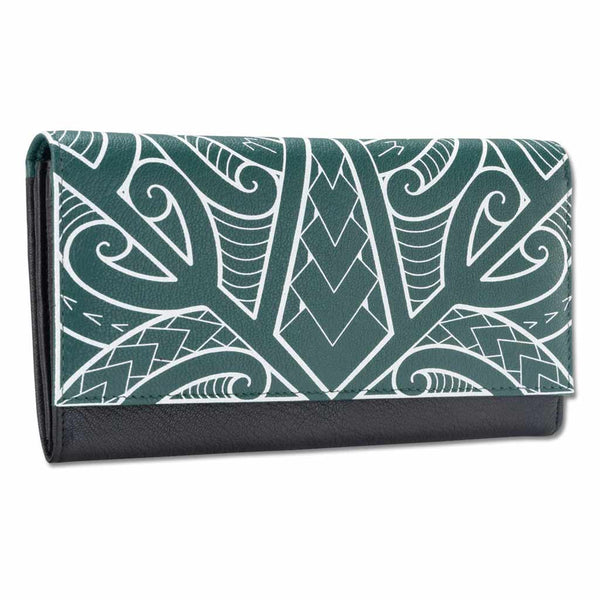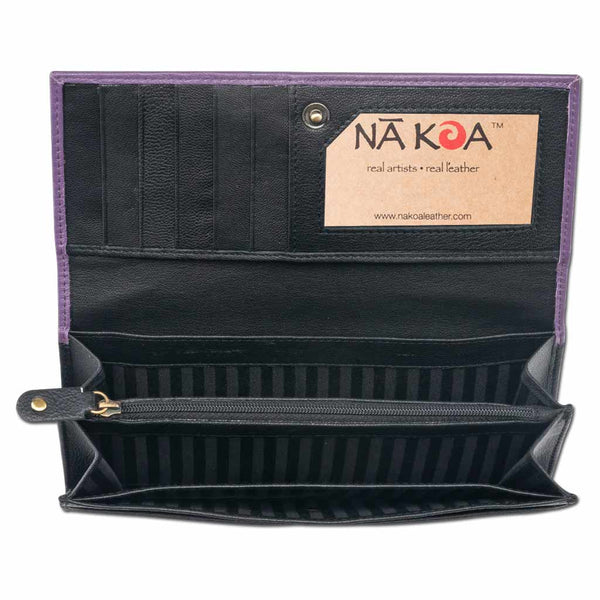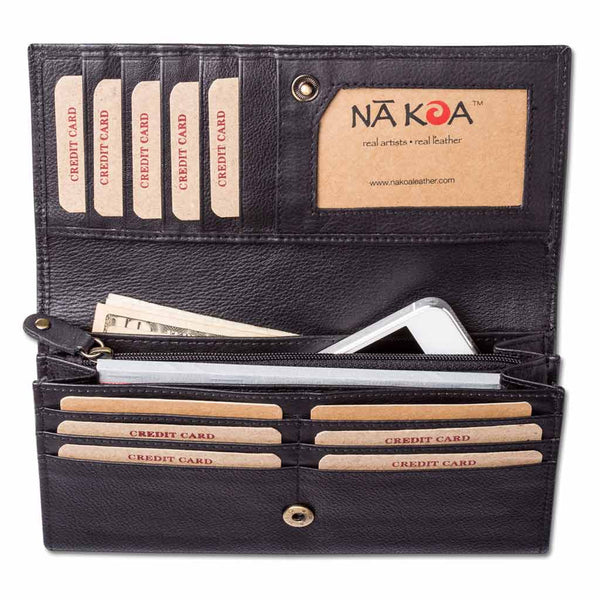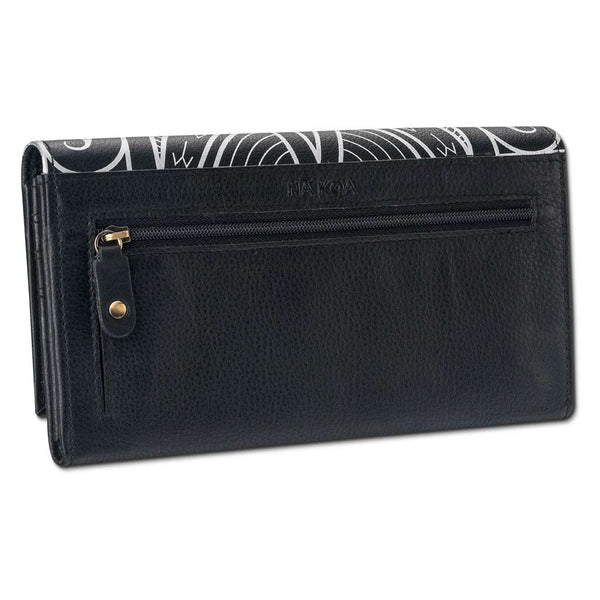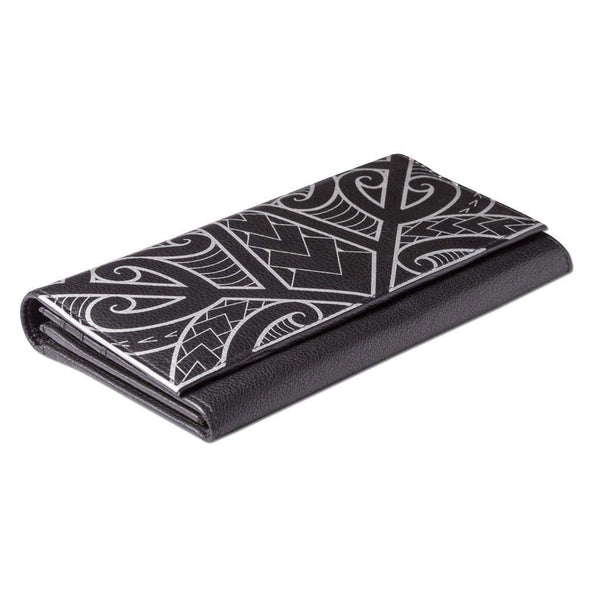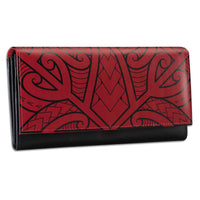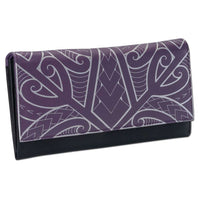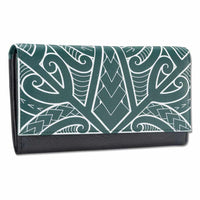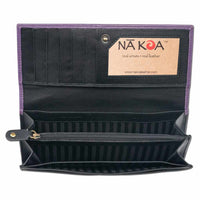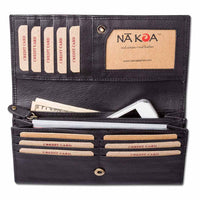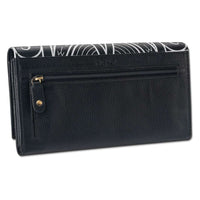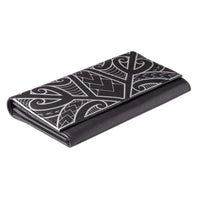 "I absolutely love, love, love my wallet. It has so many needed compartments and still closes well"
Polynesian tattoo clutch wallet - Art: "Ikaika" by Eugene Ta'ase
$79.99
You Save:

$-79.99

(100%)
Product Description
Description
GENUINE POLYNESIAN TATTOO by Samoan American tattoo artist Eugene Ta'ase. 
The tattoo art reflects Personal strength and life-long growth.
SOFT GENUINE LEATHER:  The tattoo art is placed on the leather with a unique method that leaves the natural leather exposed and preserves its soft feel and finish.
FAST ACCESS TO THE STUFF you need most often - your credit cards and ID. Just turn over the front flap to get to them.
PLENTY OF SPACE for you if you need to carry a lot of cards, cash and just "stuff".  The pliable leather will mold itself to comfortably accommodate your daily wallet essentials.
STAY ORGANIZED WITH EASE with multiple slide-in compartments for easy access and two zippered compartments for extra security.
DURABLE AND DEPENDABLE each wallet has been crafted with love and care from high quality leather. Due to our unique method of applying the tattoo to the leather, the tattoo won't rub off.  
SHIPS FAST FROM HAWAII directly to you anywhere in the US within days.
Order your NĀ KOA men's wallet today and enjoy a unique wallet that makes a personal statement.
Art and Artist
Ikaika by Eugene Ta'ase.

Motifs and Meanings*: This Samoan tattoo design reflects a strong personality and someone who continues to grow to fully become her strong self. This is expressed in the central motif of spearheads that speak of strength and courage, and the repeating koru motif that stands for growth. The art is rounded out by birds, signifying the life journey of the wearer.

*according to the artist as well as additional popular interpretations.
Specs
A stylish clutch wallet that holds all your stuff and gives you fast access to your credit cards and ID.
11 card slots for credit cards — you can fit more than one card into a slot
Convenient ID window
3 full-length slide-in compartments for bill, receipts and more
2 additional open compartments that can hold most smart phones, a check book and more
Zippered pocket inside to keep coins and more safe
A second zippered pocket on the back
Easy-open secure snap closure
Made from 100% genuine leather—soft and pliable
NĀ KOA signature logo debossed on back
Dimensions: 7 7⁄8 " (L) x 4 " (H) x 1" (W), Weight: 5 oz

NĀ KOA Polynesian tattoo clutch wallets are great for any woman who wants to make a statement about who they are with a beautifully-designed, unique wallet.
Order your NĀ KOA men's wallet today and enjoy a unique wallet that makes a personal statement
Bought as a gift then kept it
I bought my first clutch as a gift for a friend and it just "spoke" to me. I decided to keep it for myself and get my friend a different color, one that "speaks" to her. She says red is auspicious from her Chinese side as representing abundant fortune or something like that, or is it that red is just easier to spot in her handbag. Whatever, sheʻs getting this gorgeous red one.
Lovely design. Well made & I'm happy to buy Hawaiian.
Clutch
Love it...great gift. Fine craftsmanship!
Mahalo nui loa🤙🏾
Love my wallet except for one thing. The window slot is too deep. It's very difficult to slide my driver's license out when needed.
Perfect
I adore my new clutch. It's elegant and goes with all my favorite clothes . I may have to order another one!