Product Content
Hawaiian tattoo clutch wallet - Art: "Ahona" by Kuaika Quenga
$79.99
You Save:

$-79.99

(100%)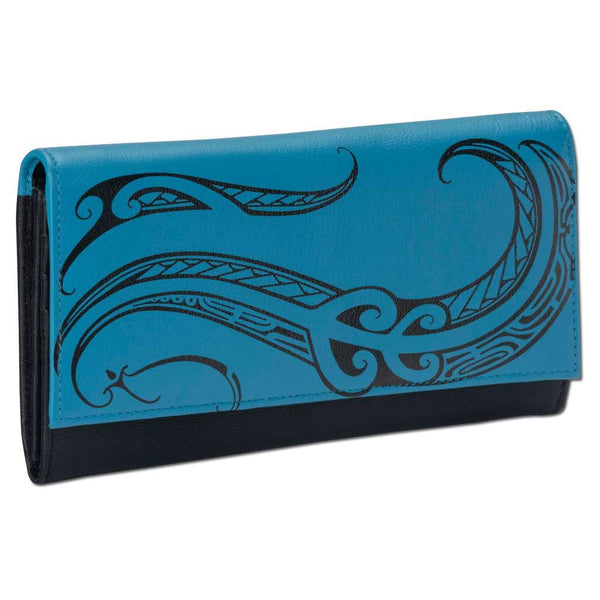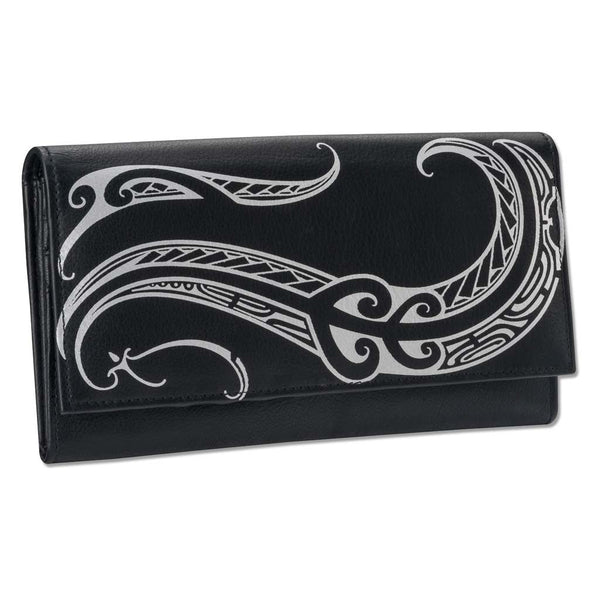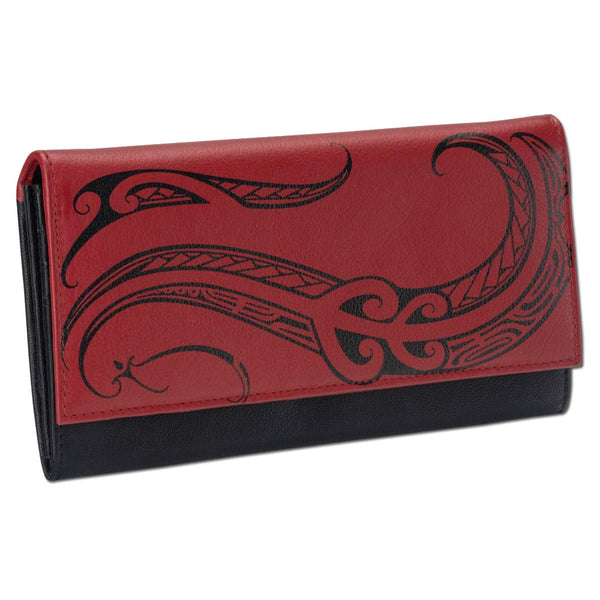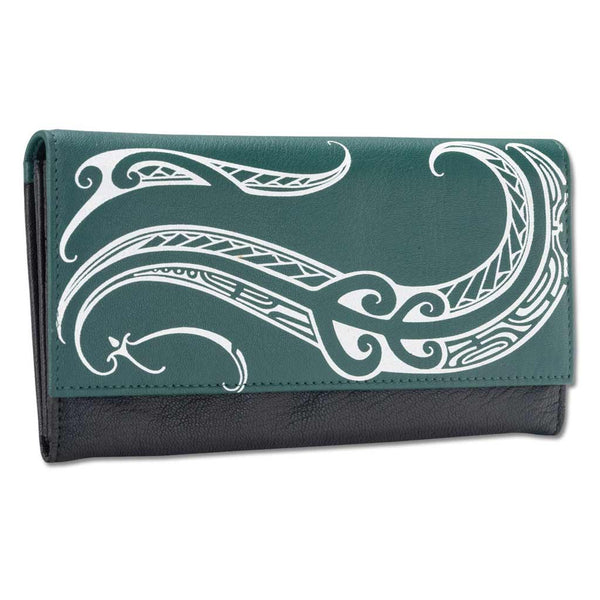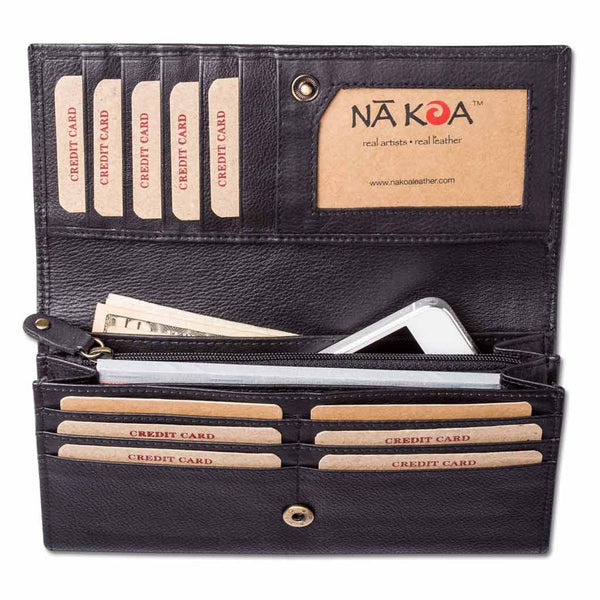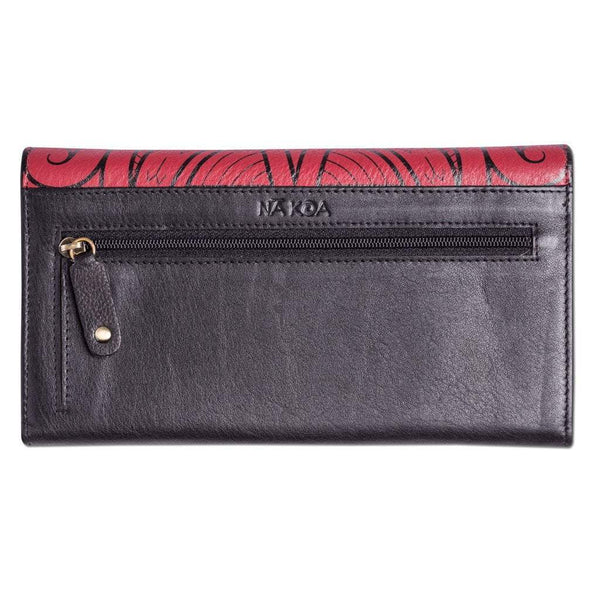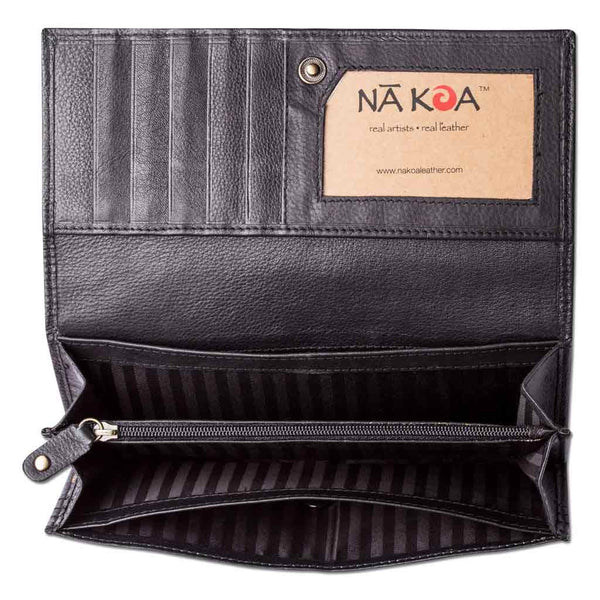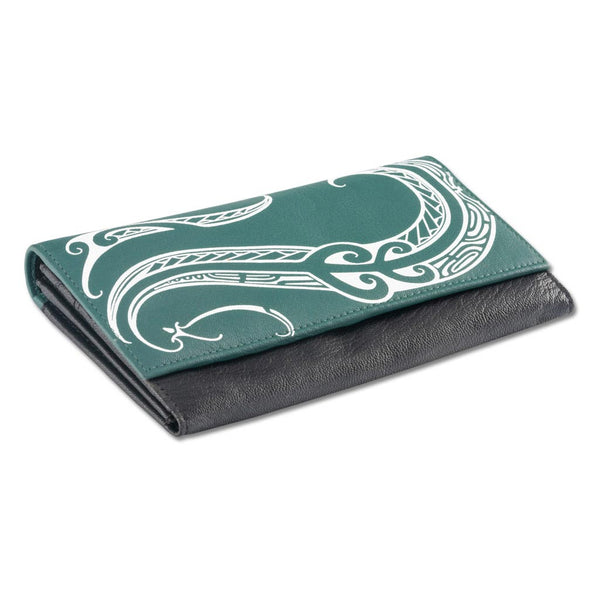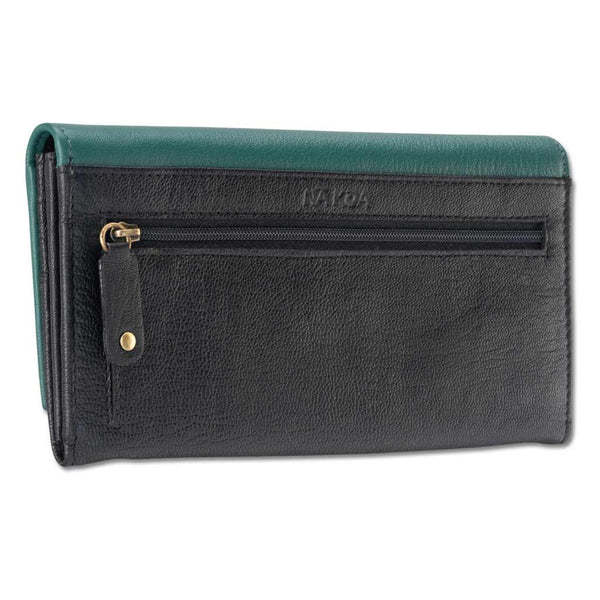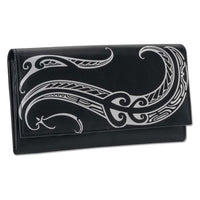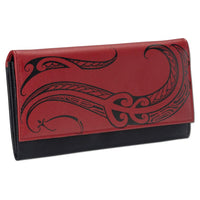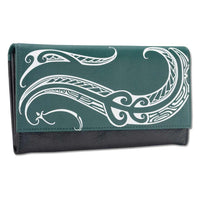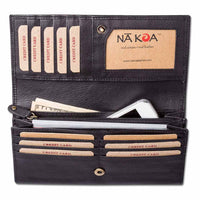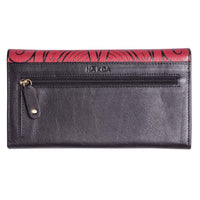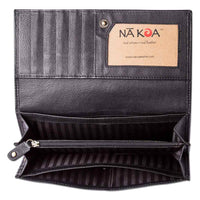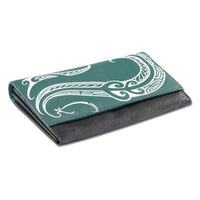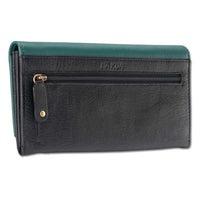 "Would recommend!! Beautiful wallet! The quality of the leather and craftmanship is worth the price"
Hawaiian tattoo clutch wallet - Art: "Ahona" by Kuaika Quenga
$79.99
You Save:

$-79.99

(100%)
Product Description
Description
GENUINE POLYNESIAN TATTOO by Maui tattoo artist Kauika Quenga.
The tattoo art speaks to wealth, health, and a positive direction in life.
SOFT GENUINE LEATHER:  The tattoo art is placed on the leather with a unique method that leaves the natural leather exposed and preserves its soft feel and finish.
FAST ACCESS TO THE STUFF you need most often - your credit cards and ID. Just turn over the front flap to get to them.
PLENTY OF SPACE for you if you need to carry a lot of cards, cash and just "stuff".  The pliable leather will mold itself to comfortably accommodate your daily wallet essentials.
STAY ORGANIZED WITH EASE with multiple slide-in compartments for easy access and two zippered compartments for extra security.
DURABLE AND DEPENDABLE each wallet has been crafted with love and care from high quality leather. Due to our unique method of applying the tattoo to the leather, the tattoo won't rub off.  
SHIPS FAST FROM HAWAII directly to you anywhere in the US within days.
Order your NĀ KOA men's wallet today and enjoy a unique wallet that makes a personal statement.
Art and Artist
Ahona by Kuaika Quenga.

Motifs and Meanings*: This graceful taro leaf design by Hawaiian tattoo artist Kuaika Quenga refers to the kind of wealth that makes for a happy life: wealthy in friends and family, fortunate in what you have and do, and physical and mental wellness. The koru motif and kea'e bird point to the future and the positive direction of your life.

*according to the artist as well as additional popular interpretations.
Specs
A stylish clutch wallet that holds all your stuff and gives you fast access to your credit cards and ID.
11 card slots for credit cards — you can fit more than one card into a slot
Convenient ID window
3 full-length slide-in compartments for bill, receipts and more
2 additional open compartments that can hold most smart phones, a check book and more
Zippered pocket inside to keep coins and more safe
A second zippered pocket on the back
Easy-open secure snap closure
Made from 100% genuine leather—soft and pliable
NĀ KOA signature logo debossed on back
Dimensions: 7 7⁄8 " (L) x 4 " (H) x 1" (W), Weight: 5 oz

NĀ KOA Polynesian tattoo clutch wallets are great for any woman who wants to make a statement about who they are with a beautifully-designed, unique wallet.
Order your NĀ KOA men's wallet today and enjoy a unique wallet that makes a personal statement
Nani nui
The artwork is lovely, the quality of the wallet is top notch. I was worried about the size, but it is slim while having ample space for everything this girl needs in her wallet. I will definitely show this to my family, friends & especially my halau 'ohana.
Hawaiian Tattoo Clutch Wallet
Love this wallet! It is the perfect size and has a lot of card slots. It's not bulky even when full. Great material I would purchase again but since it is so well made I have a feeling it will last. leather is super soft and love the design!
Authentic, quality craftsmanship!
I absolutely love, love, love my wallet. It is vibrant and personal, as the one I chose represents strength and personal growth. It has so many needed compartments and still closes well, even when full! The plus is that I get to support local artistry! I'll definitely buy more product in the future. Already have gifts in mind for others!! Mahalo nui loa!!
Simply Beautiful
Gorgeous wallet with so much space for everything! Delighted with amazing design & will order more as gifts! Well made & glad to keep supporting local Quick delivery was a plus! Mahalo nui Na Koa! 🩵
Unique
I ordered this beautiful wallet in the teal blue color. I did not have to wait very along at all. The workmanship is outstanding and I have gotten many compliments. Thank you to your talented craftsmen.