Product Content
Tote bag with Tribal Tattoo - Design: Kaulele by Megan Jones
$125.00
You Save:

$-125.00

(100%)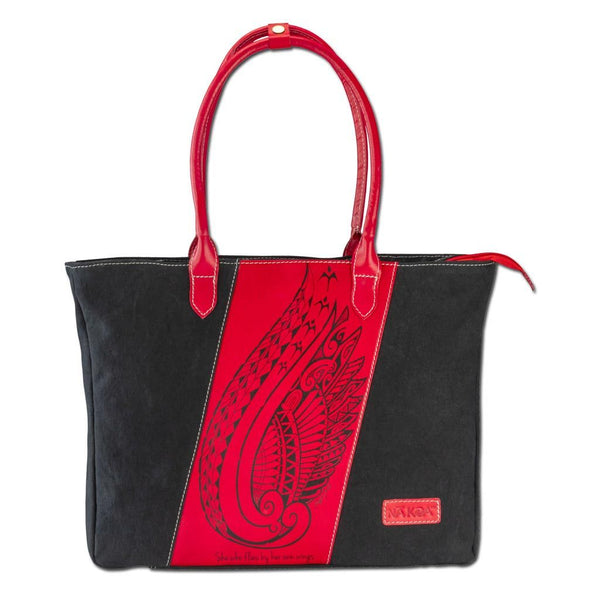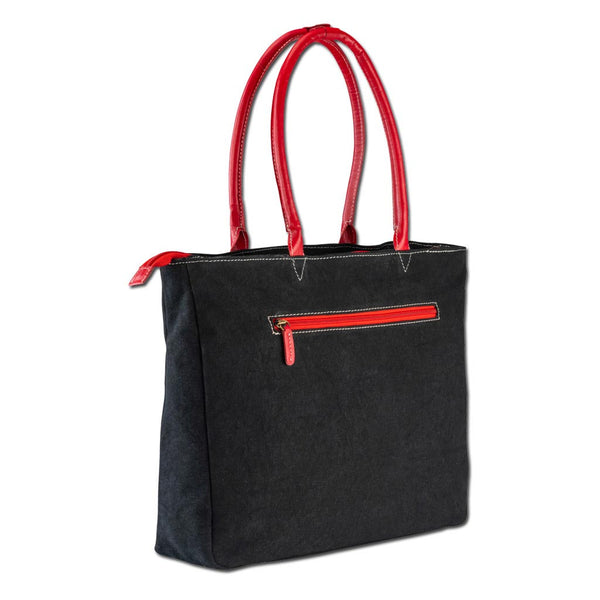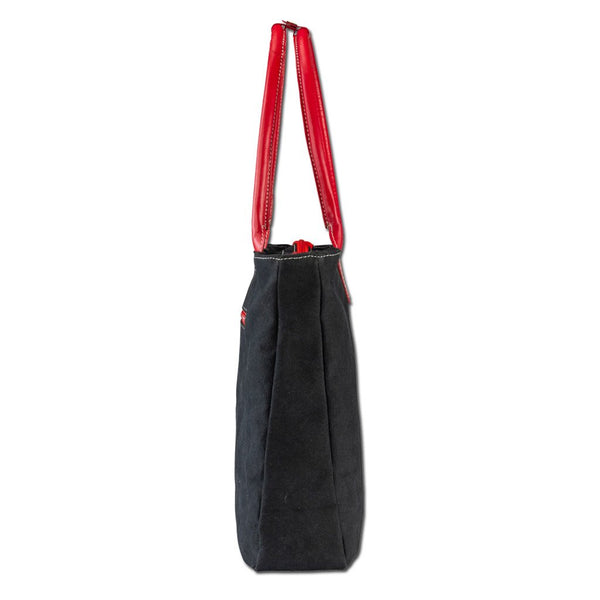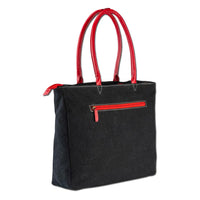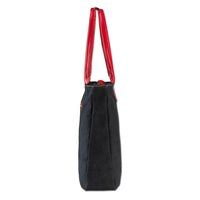 "I love my new tote, so elegant, yet casual. I wore this with a red dress & I think my bag got as many compliments as the dress. "
Tote bag with Tribal Tattoo - Design: Kaulele by Megan Jones
$125.00
You Save:

$-125.00

(100%)
Product Description
Description
Kaulele by Megan Jones: She who flies by her own wings.
Art and Artist
Kaulele by Megan Jones.

Motifs and Meanings*: She who flies by her own wings. Manu, the bird, is a frequent motif for Hawaiian tattoo artist Megan Jones to represent direction in life. In this exuberant piece, the beautiful bird's wing that lifts you up also includes symbols for guidance, new beginnings, safe returns, communication, the guiding bonds of generations, and protection.

*according to the artist as well as additional popular interpretations.
Specs
A showstopper of a bag that's also super practical. The extra large size can hold your laptop, give you space for your travel essentials when boarding a plane, or simply attract everyone's attention with its casual chic and gorgeous tattoo art.

This oversized tote is the ultimate everyday carryall. It's handcrafted from heavy duty cotton canvas and a wide leather stripe to show off the arresting Polynesian tattoo design..

The tribal tattoo art by Megan Jones has been placed on the leather with a unique method that leaves the natural leather exposed and preserves the feel and finish of the genuine leather.

The Lawe tote also has plenty of pockets for organizing essentials. A zippered closure protects your stuff. Inside, two convenient cell phone sized pockets and a large zippered compartment give you quick access to your essentials. Light colors contrasting lining makes it easy to see what's inside..

Another zippered compartment in the back rounds out the many options to keep everything organized and in it's special place.

- Oversized tote bag with room for everything
- Top zippered closure
- 2 convenient cell phone sized interior pockets
- 8 1/2" x 10" interior zipped compartment
- Handles with 10" drop
- Zippered large compartment in back
- Contrasting lining
- Made from 100% genuine leather and heavy duty canvas
- NĀ KOA signature logo patch
- Imported from India
- Dimensions:
- 12 1⁄2"x 18" x 3 1⁄2 " (H x W x D)

The casual chic Lawe tote from NĀ KOA makes it a great gift —or a treat for yourself!

Order it today and enjoy a one-of-a-kind tote bag that has personal meaning for you.
Very Satisfied
I definitely love my new purchase,.Very well made.!
Looking forward to more beautiful creations & tattoo designs, Any possibility they can be made of all Leather instead of canvas? That would be so Kool & durable, Perfect for travel
Mahalo!
Looooveittt 💯🫶❤️❣️
It's very durable looking and arrived so quickly. Love it!
Amazing bag super beautiful and well made.
Money Well Spent
Shipping was super fast!! Wasn't expecting my bag to be as gorgeous for the price!! I love my bag and will use it with pride especially because of the true craftsmanship put into making it!!
Mahalo Nā Koa 🌺
Beautiful!
Bag is so unique and beautiful. Can't wait to give to my daughter!